A Christian

apologetics

ministry dedicated to keeping the "false" out of doctrine
Download, Borrow, or Purchase
The Kingdom Interlinear Translation, including the JW Library app, or Possibly Obtain a Hard Copy for Free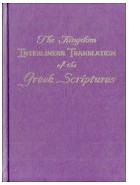 Using
The Kingdom Interlinear Translation of the Greek Scriptures
(
KIT
), put out by the Watchtower, is an excellent way to point out the errors contained in the Watchtower's own Bible translation, the
New World Translation
. By comparing the Greek on one side (with the English meanings of the Greek words written under the Greek words), to the Watchtower's translation, written on the other side, it is readily apparent that the Watchtower has mistranslated God's Word. You might be able to obtain a copy of of the
KIT
simply by stopping by a Kingdom Hall and asking for one. If not, listed below are other options.
To directly download a pdf copy of the 1969
The Kingdom Interlinear Translation
go to this address:
https://ia902707.us.archive.org/3/items/KingdomInterlinearGreekScriptures/Kingdom _Interlinear-Greek_Scriptures_1969.pdf
To download other formats of the 1969 KIT
go to this address:
https://archive.org/details/KingdomInterlinearGreekScriptures

To download a copy of the 1985 KIT
, go to Scribd:
https://www.scribd.com/doc/151181553/Kingdom-Interlinear-Translation-of-the-Greek-Scriptures-1985
NOTE:
The links for the
KIT
s seem to break frequently. If you discover a bad link, or if you discover other functional links for
KIT
downloads, please let Scott know at zanson at msn dot com.
To obtain the Watchtower's free JW Library app, which includes the KIT:
The Watchtower has an app called JW Library, available for Android (from Google play), iPhone, iPad, iPod touch (from the App store), Windows and Windows Phone (from the Windows Store and the Windows Phone Store).
Once you've installed the app on your device, select the "Bible" icon at the bottom of the screen (the process may vary depending on your device). A list of Bible translations will appear. Download "English – New World Translation" and "English - Kingdom Interlinear." See the iPhone screenshots below for further instructions.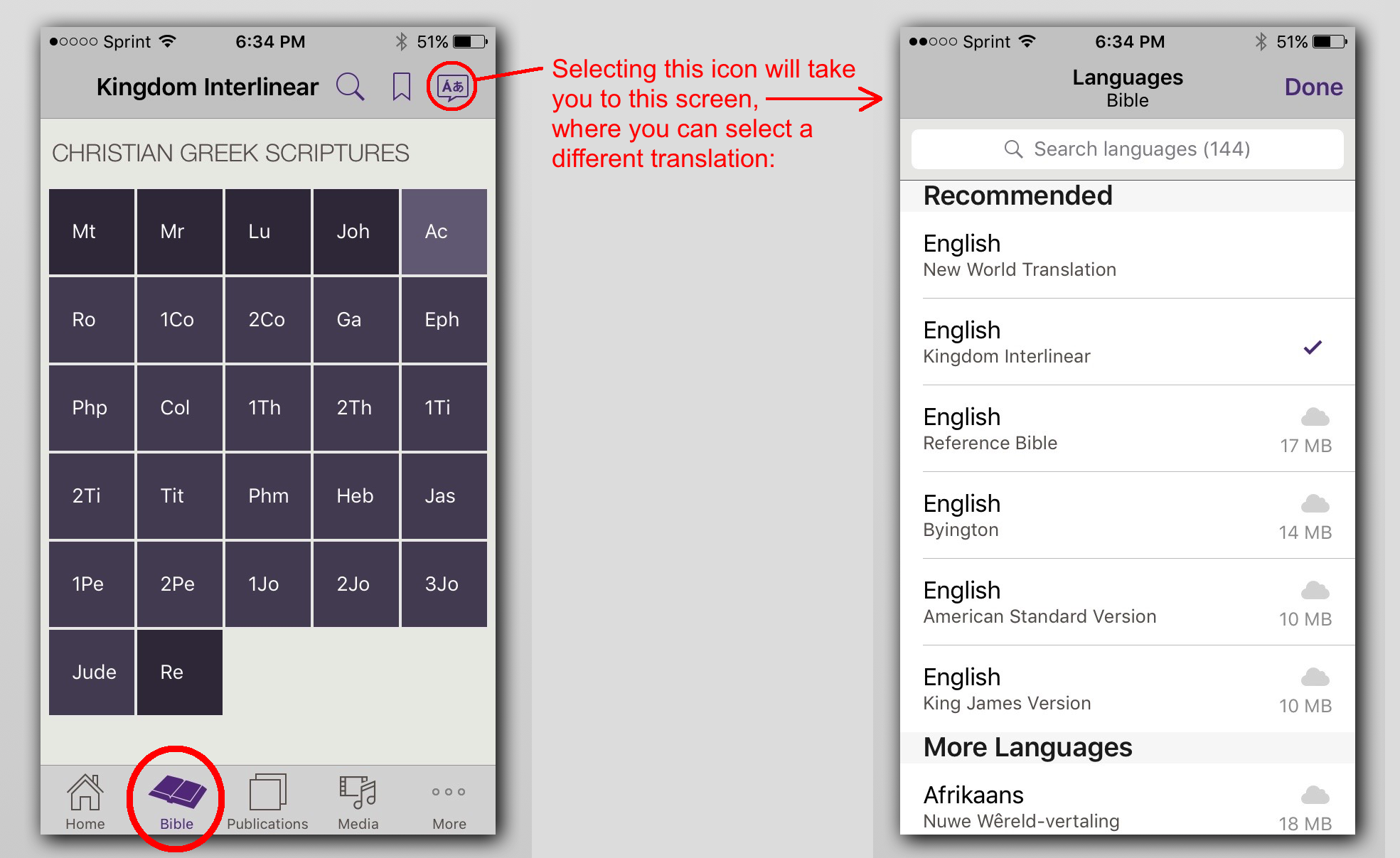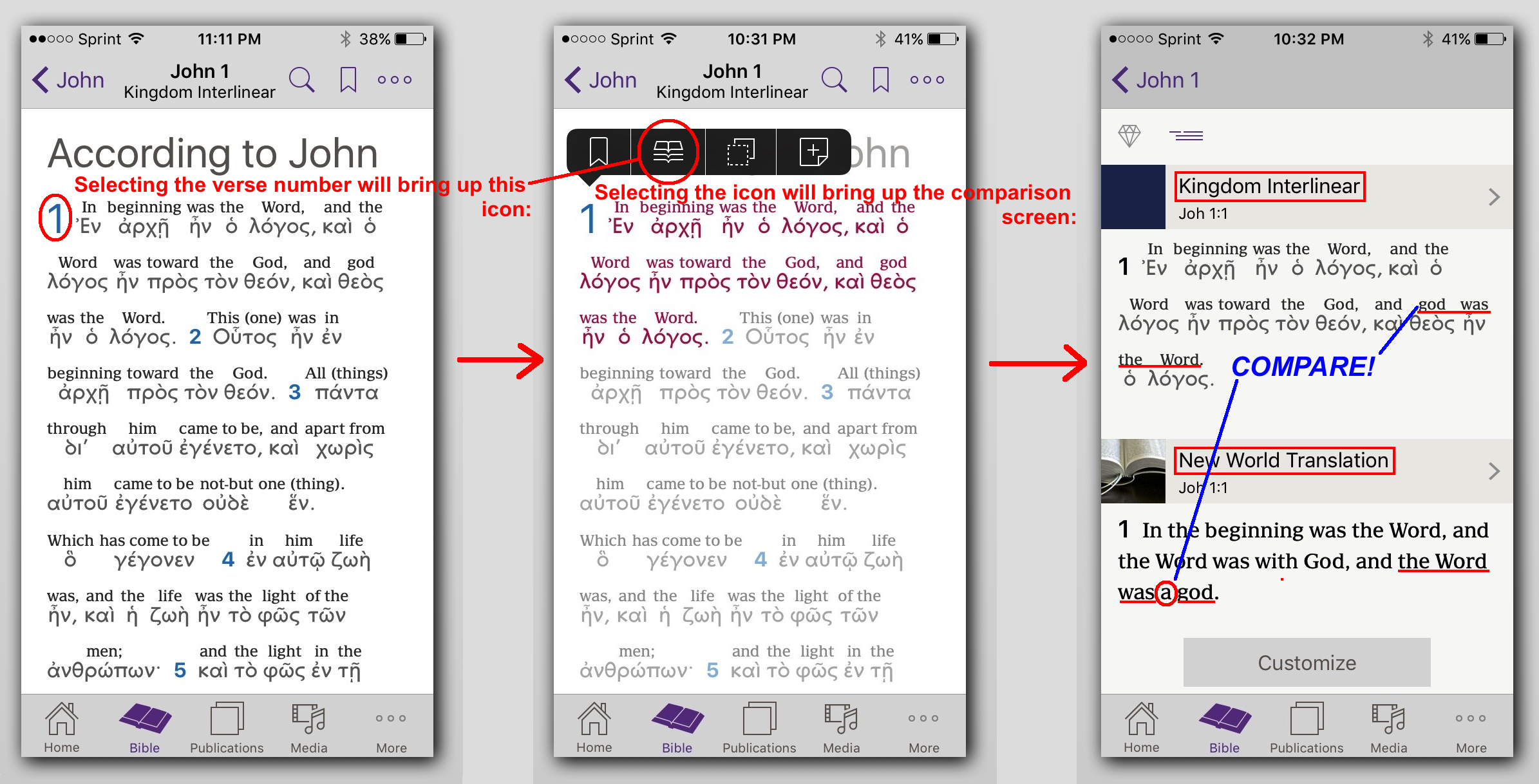 Help for the app can be found on the Jehovah's Witnesses website at https://www.jw.org/en/online-help/jw-library/.
To check out a digital ePub or pdf copy of the 1985 KIT
go to
Open Library
. Open Library is free (just sign up), simple to use, and is a project of the non-profit
Internet Archive
. The
KIT
page is located at:
https://openlibrary.org/works/OL16478522W/The_Kingdom_interlinear_translation_of _the_Greek_Scriptures

To purchase a copy of
The Kingdom Interlinear Translation
, check out a used book retailer such as
AbeBooks.com
, or you may find one on
Amazon.com
or
eBay
.
Related articles
:
Whatever Happened to The Kingdom Interlinear Translation of the Greek Scriptures?, Part 1
The New World Translation on Trial in the Watchtower's Own Kingdom Interlinear Translation of the Greek Scriptures, Part 2
Whatever Happened to The Kingdom Interlinear Translation of the Greek Scriptures, Part 3
A Glaring Example of Watchtower Inconsistency