A Christian

apologetics

ministry dedicated to keeping the "false" out of doctrine


Evangelism and Outreach
A few words from President Harrison on evangelism and outreach:
"Don't we think of conversion and evangelism today almost exclusively in terms of "personal witness"? Don't we think of them happening individual to individual? And if this "coming to Jesus" is viewed as normally occurring quite outside the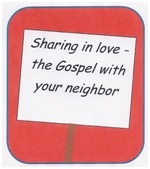 confines of "church," does it surprise us that in the minds of many Lutherans "the church" is not essential to salvation? After all, the largest "Lutheran Church in America" is indeed the "ILC" or "Invisible Lutheran Church." For census data show us that the number of people who describe themselves as "Lutheran" is far larger than the membership of the Lutheran church bodies combined. Baptism and preaching are, however, corporate acts. Walther states somewhere in a thesis that "conversion happens ordinarily [
ordentlicherweise
] through the preaching of called ministers, but extra-ordinarily through the witness of laymen." Where in our church would anyone view conversion in such a communal way today?" SANCTIFICATION AND CHARITABLE WORKS IN LUTHERAN THEOLOGY by Rev. Matthew C. Harrison, Executive Director LCMS World Relief and Human Care (p.13)
In that spirit the below listed materials are designed to complement the Synod's Every One a Witness program with additional materials centered around evangelism activities associated both within and exterior to your church.
Evangelism and Outreach Lesson 1
click here
.
Evangelism and Outreach Lesson 2
click here
.
Evangelism and Outreach Lesson 3
click here
.
Problem Solving 101
click here
.
Orientation Night Sample Agenda
click here
.
MP3 music file
click here
.
Copyright
© 2015 Church Matters - Solutions, Oregon